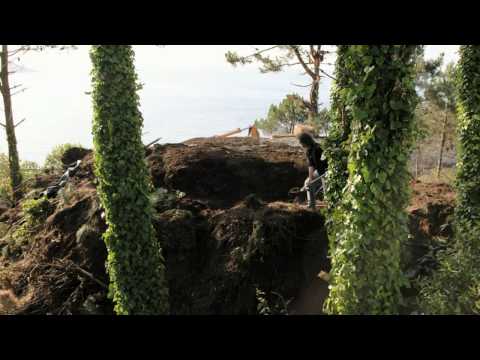 This is just plain cool. When have you ever seen a house built this way? On top of that, when have you ever seen a cow help build a house? Ok so the house itself isn't that visually attracting but the concept is rather interesting. I could see this transforming into a really cool, multi story house with tunnels underground.
The way this house was built was by digging a large hole in the ground, piling up the soil to the sides and putting down layer after layer of cement while also using hay bales to hold form for the inside living space. After completely covering all of the bales with cement, the soil was packed back on top of it. Once dried, the soil was removed and the front and back were cut off, leaving the insides open for a calf to graze on.
A year and a plump cow later, the interior of the house was clear of hay and the final elements were added. The final end result looks like it would be a really cool place to have a day studio and the view would be stunning as it looks out over the water.
Via Arch Daily.